Liz has been a professional content manager since the internet was invented. Getting better quality sleep has always been a passion of hers – especially once she had kids! Liz now writes and curates our content, making sure to test all the products she can to give you an unbiased opinion. Learn more about our team.
Do you suffer from sleep apnea and think there's little you can do to improve the situation at night?
We have good news for you! With the right type of support pillow, you don't have to suffer throughout the night because of sleep apnea symptoms.
Although sleep apnea pillows do not TREAT sleep apnea, they decrease sleep apnea severity, leading to more comfortable sleep.
In this article we've compiled the best pillows to help you reduce sleep apnea symptoms. It's time to improve your sleep quality for a happier, healthier YOU!
The right pillow will transform your life (a complete 180° turn). We'll discuss the best sleep apnea pillow shortly but first, let us see the major types of pillows that will feature in our list.
Various types of foam are used as filling for pillows. Memory foam pillows are the most popular, but there are other types of foam such as latex foam, polyurethane foam, etc. Foam pillows guarantee comfortable sleep because they adapt to a contoured shape, helping you sleep comfortably and soundly.
Continuous Positive Airway Pressure Pillows (CPAP Pillows)
While sleep apnea is a widespread sleep disorder, obstructive sleep apnea is the most disruptive (as the name suggests!). As mentioned above, sleep apnea pillows do not cure sleep disorders, but they help in various ways. 
A CPAP pillow is perfect for sleep apnea patients who use a CPAP mask and CPAP machine. CPAP pillows are designed to ensure that the mask does not press on your nose or face, so you don't have to sacrifice comfort to relieve sleep apnea symptoms.
Wedge pillows are triangular, and most have a steady incline. Therefore they help with head elevation, making them perfect for relieving sleep apnea symptoms. They are also used for other issues such as acid reflux.
That's why our favourite pillow for sleep apnea is a wedge pillow.
How We Chose The Pillows We Reviewed
We wanted this list to include pillows ranging from cheap to expensive. Sleep apnea pillows that can fitall buyers' needs and pockets. Here are factors we considered:
Compatible with CPAP Machines
Sleeping with a CPAP mask on may be uncomfortable because of the pillow you are lying on. That is why we included pillows compatible with CPAP masks to ensure you sleep soundly!
Good For Stomach Back And Side Sleeping
According to research, your sleep position can impact the severity of sleep apnea. But we understand that changing one's sleeping position is not as easy as it sounds.
That is why we included pillows that are comfortable for side sleepers, stomach sleepers, and back sleepers.
We didn't leave anyone out!
Complimentary Customer Reviews
Satisfied sleep apnea patients are all the proof we need to know that a particular pillow helps. That is why we included sleep apnea pillows with positive customer reviews.
Our Top Picks for Sleep Apnea Pillows
The Cushy form bed wedge pillow is a fantastic sleeping aid for people suffering from sleep apnea. It is quite simply comfort redefined, and your body will thank you for the additional support it will give.
Best Overall
What's not to love about a great wedge pillow that doesn't take too much space or leave you wondering how to store it? The cushy wedge pillow is the answer to your sleep apnea needs, and with it, you can say yes to better sleep.
Materials - Memory foam
Dimensions - 25 x 24 x 10 in
What we love
Long-lasting
Multiple uses
It is an adjustable pillow
High-quality materials
Fast delivery
What you might not
Some users may find it too firm
What makes this wedge pillow unique? We didn't place it as our top choice for sleep apnea because the name sounds comfy! No. we did it because of the folowing fantastic features:
Worried about complicated cleaning procedures that require you to rush to buy more cleaning supplies? Worry no more! The Cushy bed wedge has a removable washable cover. Whenever it becomes dirty, remove it and toss it in the washing machine, and it's good to go.
So if you have sensitive skin and sleep apnea, you don't have to worry about solving one problem and increasing the severity of the other!
30° Or 60° Elevation? Your Choice
Sleeping with your head elevated will help keep the airways open, thus reducing sleep apnea severity. But we all have our preferences for elevating our heads in bed. 
With Cushy bed wedge, you can elevate your head at 30° or 60° depending on your comfor, so you can reduce the symptoms of sleep apnea and sleep comfortably.
Cushy bed wedge pillows have memory foam filling. That means you can sleep comfortably as the foam adapts to your shape. Additionally, you won't worry about replacing the pillows often because they don't lose their firmness with continued use.
That is what we call a good investment for your health!
Best for Side sleepers - Scandvia CPAP Pillow
Side sleeping is recognised as one of the best sleeping positions, but how well do you sleep if you enjoy sleeping on your side but use a  CPAP mask? Does it press your face and wake you up?
Using a standard pillow is not much help as they lose fitness the more you use them. You need a product made with mask wearers in mind.
Best for Side sleepers
The Scandvia CPAP pillow can solve your problems as a side sleeper! It's designed is specifically for side sleepers.
It's like all your sleeping desires in a single parcel. As you will see below, all the features are made with you in mind. We bet you will enjoy a whole new level of comfort!
Materials: Memory Foam
Dimensions: 17.5 x 13.1 x 7.1 in
What we love
Suitable for both side and back sleepers
A removable cover that's easy to wash
A super-soft pillow cover
What you might not
Some users experienced ear pain when side sleeping
We love everything about the Scandvia CPAP pillow. It's cool and enables side sleepers to sleep comfortably and have good airflow. Here is how it will restore your sleep quality:
Contours That Cradle Your Neck Head And Mask
The pillow has gentle contours that help cradle your neck and head. They also cradle your mask and keep it in place to ensure that your oxygen flow is uninterrupted. 
The Pillow Absorbs Mask Pressure
Air leaks can disrupt your sleep. That is why this pillow absorbs the pressure from your mask to prevent air leaks. This also ensures that your mask will stay in place throughout the night.
The pillow is made from excellent quality memory foam. You are assured of years of service. So you won't need to replace it regularly. The pillow reduces pressure on painful pressure points. By buying it, you give your body the chance to rest and rejuvenate without any pain.
CPAP tube positioning is vital to a good night's sleep. With Scandvia CPAP pillows, side and back sleepers can sleep without worrying about their tube forming knots as they toss and turn. Better sleep all night long.
Best for Back sleepers - Coisum Back Sleeper Cervical Pillow
No matter how many medical articles you read about the health risks of your sleeping position, you can't change it overnight.  That is why you need a pillow that suits your needs and cancels out any adverse effects.
Coisum back cervical pillows are IT for back sleepers.
Best for Back sleepers
No matter how many medical articles you read about the health risks of your sleeping position, you can't change it overnight.  That is why you need a pillow that suits your needs and cancels out any adverse effects.
Coisum back cervical pillows are IT for back sleepers.
Materials: Memory Foam
Dimensions: 24.4 x 15 x 4.7 in
What we love
Affordable
Great for neck and shoulder pain relief
Cools you as you sleep
High-quality filling materials
Perfectly softcover
What you might not
The B areas sink when you place your hands on them
The pillow fits your neck perfectly with medium hardness and temperature sensing features. Don't worry if you feel uncomfortable the first few nights. The pillow has not yet adapted to your neck, but once it does, there will be no looking back.
2 Different Contour Heights
The two sides have different contour sizes. One is lower than the other. So don't feel restricted to one side. Choose the one that suits your needs or preference.
Removable Breathable Pillowcase
It is easy to maintain the pillowcase as it is removable and washable. It is made from breathable, skin-friendly fabrics that promote airflow. That way, you stay cool as you sleep.
Best for Snoring - Avana Contoured Bed Wedge Support Pillow with Bamboo Cover
Snoring is unpleasant (for lack of a better word). It's worse for your partner as it will disrupt their sleeping.
Try the Avana contoured bed wedge today for the best experience as you sleep without snoring!
Best for Snoring
Snoring is unpleasant (for lack of a better word). It's worse for your partner as it will disrupt their sleeping.
Try the Avana contoured bed wedge today for the best experience as you sleep without snoring!
Materials: Memory Foam
Dimensions: 35.04 x 24.02 x 7.87 in
What we love
Long-lasting
The cover is machine washable
1 year warranty
High quality
Fast delivery
It doesn't slide as you sleep
What you might not
Costly
The contoured surface is not ideal for stomach sleepers
Features are vital if you want to buy the best pillow for sleep apnea. The Avana contoured bed wedge pillow has incredible features that will support your needs for sleep apnea and other issues such as skin sensitivity.
Do you have sensitive skin? Don't worry; the bamboo cover has Tencel lyocell, which is 70% more absorbent than cotton. So you don't have to sleep in your own sweat all night. The cover absorbs it and cools you down.
Goodbye to a sweaty face!
The Avana bed wedge pillow is made up of firm base foam. They combine polyurethane foam and memory foam for a high-quality bed wedge that will serve you for years to come.
That is a perfect way of giving your upper body the support it needs as you sleep or if you're having a period of lengthy bed rest.
The wedge acts as a body pillow. Therefore it gives you the support and inclines you for your airways to stay open. But it retains its shape when you wake up.
Best for Comfort (Cooling) - Tempur-Pedic TEMPUR-Cloud Pillow
Apart from sleep apnea, sleeping and feeling hot and sweaty is another issue that makes sleeping uncomfortable. That's why the coolest sleep apnea pillow you can lay your hands on is the Tempur Pedic cloud pillow. 
Best for Comfort (Cooling)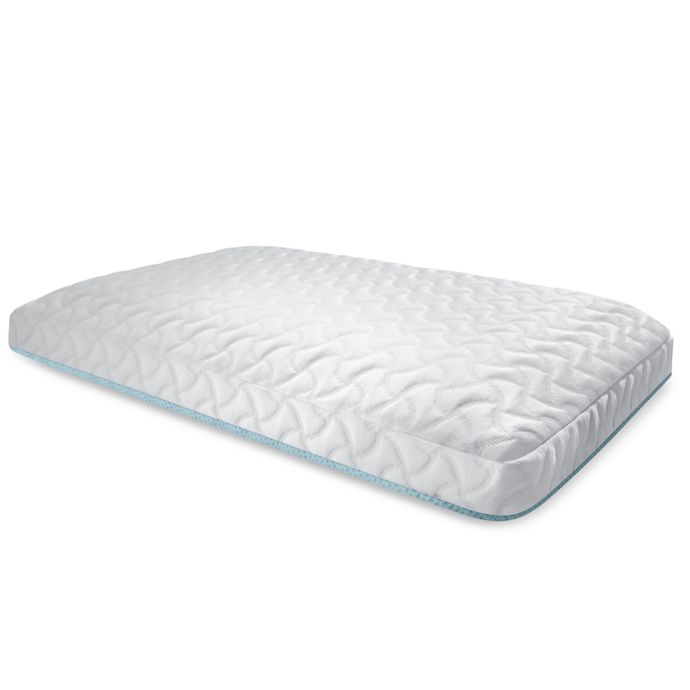 A pillow can be firm enough to support your upper body and soft enough to make sure you don't wake up with neck pain. It gives you the feeling of lying and floating on clouds. This is perfect for a sleep apnea-free and super comfortable sleeping experience.
Materials: xtra-soft TEMPUR® Material
Dimensions: 24 x 15 x 5 in
Machine Washable: Yes
What we love
5-year warranty
Requires low maintenance
It is easy to transport so you can enjoy your sleep anywhere you go
Free shipping
Extra soft feel
High-quality materials
A pillow is not just a pillow. Pillow features determine how effectively it will serve its purpose. Here are the remarkable features that Tempur cloud pillows offer:
The cover is 100% polyester knit and hypoallergenic. It is also removable and machine washable. So don't sleep on a dirty pillow or without one as you try to understand complicated cleaning procedures.
Do you want a pillow you can use when traveling or on vacations? The Tempur cloud pillow is the best choice.
Fold it with a belt and carry it in your suitcase. When you need to use it, untie it and watch as it goes back to its original shape. Now you can sleep cool and sleep apnea-free even when you're on the go!
The Tempur material is as soft as clouds. So you can sleep soundly without waking up with a sore, aching neck or shoulders. It also adapts to your shape without losing its shape and firmness. No matter how long you use it, its size and shape remain the same. It gives you value for your money.
Are you more comfortable when lying on a traditionally shaped pillow? That is what the Tempur pillows offer.
Nothing too crazy – just a high-quality pillow that retains the traditional pillow look for comfort and style!
Best for CPAP Mask - Endurimed CPAP Pillow
Apart from struggling to breathe when you don't sleep with a CPAP mask, it may also be uncomfortable to sleep with one.  Lying flat is not even an option. Standard pillows may make the mask press into your face and nose.
So what is the solution?
CPAP pillows for sleep apnea.
Best for CPAP Mask
The Endurimed CPAP pillow is a MUST HAVE if you sleep with any type of CPAP mask on. It is designed to suit your comfort and ensure the mask stays in place without pressing into your face.
By buying this CPAP pillow, you can finally relax and rest easy!
Materials: Cotton
Dimensions: 22.44 x 11.81 x 5.12 in
What we love
Affordable
Suitable for CPAP BiPAP and APAP users
Ready to use
Removable washable cover
Well curved to accommodate back, side, and stomach sleepers
One size fits all pillow so you can use it whether you are light or heavy
Fast delivery
Keeps the mask in place the whole night
Adjustable
What you might not
Some users experience a bad smell the first few days of using it
It's all about the features! From the least to the most remarkable feature, Endurimed is simply made for you. We loved all the little details that combine to give you a first-class sleeping experience.
Do you Use A Full Face Mask? No Problem
Whether you use a full face mask or nasal mask, the pillow is perfect for you. So wherever you need to change from one to the other, you have nothing to worry about.
Attach your mask and enjoy the best sleep experience with your Endurimed CPAP pillow!
Regular sleep apnea pillows have nothing on the Endurimed CPAP pillows. Instead of a flat surface, this pillow features a curved design. This allows your face and CPAP machine to rest comfortably no matter the sleeping position you use. The pillow is made from high-quality memory foam for a comfortable surface to rest your head!
The pressure-free mask zone allows you to sleep on your back, stomach, or side without interrupting airflow. Your tube moves freely, so you get the air supply you need for healthy inhalation and exhalation throughout the night.
This contoured pillow has removable pads. So when you want the pillow to be thinner, you remove the foam pad and adjust to the thinness you desire.
But if you prefer a thicker pillow, leave the pad in place and enjoy sleeping in luxury!
Did we mention that it has a removable and washable cover as well? You don't have to sleep on a dirty pillow!
Perfect For All Sleeping Positions
It's HARD to find a pillow that suits all sleeping positions. So what do combination sleepers do?
If you are using a CPAP machine and don't have a specific sleeping style but turn throughout the night, here is the relief you need.
You can use this fantastic CPAP pillow and sleep well.
Best Wedge - Relax Home Life Wedge Pillow
Our list can't be complete without the Relax home life wedge pillow. It is one of our top wedge pillows for anyone suffering from sleep apnea. 
You won't struggle to breathe as this pillow has a breathable cover. 
Best Wedge
You don't have to worry about sleep apnea every time you fall asleep, but you do need to adjust your head to ensure your airways remain open.
A wedge pillow can work wonders for your sleep apnea, and we didn't choose Relax home life wedge pillows blindly.
Here's why we love it.
Materials: Rayon
Dimensions: 26 x 25 x 7.5 in
What we love
Fast deliver
Long-lasting
100% lifetime warranty
Multipurpose wedge pillows
You can use it with your favorite pillow as a stomach sleeper
The incline is not steep like most wedge pillows(7.5 inches)
What you might not
Some users experienced an unpleasant smell
So how is this particular bed wedge different from the rest?
Comfort and style! The viscose bamboo cover is breathable and soft, so your body will be cool throughout the night! It's removable, so you can enjoy a clean, comfortable sleep surface.
Customer Satisfaction Centered
With Relax home life wedge pillow, you are heard and your desires considered. Therefore if you notice that their wedge pillows don't help ease your sleep apnea, let your complaints be known. That is why each Relax home life pillow is better than the last one. Your views matter so don't hesitate to provide them!
The triangular-shaped wedge pillow has a 1.5-inch memory foam layer to give you the comfort and support you deserve.
Additionally, the bottom layer is made of firm base foam that guarantees that your upper body has the support it needs with your torso elevated.
Why are user reviews important? Because they tell you whether a product is worth the money or a scam.
Looking at Relax home wedge pillow reviews shows satisfied customers who wanted a wedge pillow that gives results (neck pain relief, sleep apnea relief), and they got them!
A standard pillow is not a good choice when you experience sleep apnea. That could be the reason you're sleeping so uncomfortably!
Waking up every other hour is not suitable for your health( or your mood either). So, invest in high-quality pillows specifically designed with sleep apnea sufferers in mind.
Additionally, consult your doctor on your sleep health and ways you can improve it.
Remember that lack of sleep = low productivity = more significant problems. We don't want it to get there, so take the proper steps for quality sleep TODAY.