Expert reviews of the top pillows to help you recover from surgery or make long-term bed rest more enjoyable
Chris is a professional osteopath who qualified from the  European School of Osteopathy with an Integrated Masters of Osteopathy (D.O. M.Ost.), so what he doesn't know about your body isn't worth knowing. Learn more about our team.
Sometimes you have to spend long periods in bed, whether you want to or not. So you may as well make the most of the situation and set yourself up for maximum comfort with a good pillow that provides the back support and features you need.
I think everyone needs a bed rest pillow. It may be because you enjoy reading a book in bed before sleeping. Or maybe you like watching tv in your room, or many other reasons.
So you might be wondering which is the best pillow for bed rest? There are so many options out there. This article is going to save you a ton of time. We've selected the top seven best pillows for bed rest to cover all your specific requirements.
Our Top Picks for Bed Rest Pillows
Types of Bed Rest Pillows
Bed rest pillows are great products that provide support right where you need it when you are watching television or gaming for long periods in bed.
Bed rest pillows offer extra support for patients recovering from surgery and can even relieve acid reflux or sleep apnea symptoms.
Some bed rest pillows not only provide extra comfort and support but are also a cozy and beautiful addition to your interior decor.
Shopping for the best bed rest pillow can be a bit tricky. You'll require a lot of background information to pick the best rest pillow.
For all the pillows mentioned in this article, we will provide details on the material used in filling and covers, firmness, shape and design, particular features, their pros, and cons.
There are various types of bed rest pillows on the market, from a wedge pillow, reading pillow, husband pillow just to name a few.
Let's get right into it!
You might be wondering, what a weird name huh! A husband pillow is designed to support your back, arms, neck while you are seated down. This pillow provides lumbar support and relieves pressure from your head neck and shoulders. The husband pillow is commonly used by pregnant ladies and lactating mothers hence the name.
A neck pillow is commonly used for travel. You will notice that many people in airports carry a neck pillow with them. This pillow is specifically designed to provide cervical support to relieve neck pain and prevent neck stiffness. 
A wedge pillow is an orthopedic pillow that has been designed to elevate the upper or lower body to improve blood circulation. This pillow also helps with various medical conditions such as sleep apnea, acid reflux, and sinus pressure. This pillow has a triangular shape and works well for pregnant ladies.
Do you still have your bean bag lying around? It's time to put it away and substitute it with the cozy Millard shredded memory foam pillow.
Quality meets comfort! This pillow is a great choice for the following reasons: 
It's a great reading pillow.
It reduces nasal congestion.
Bolstering back posture.
It helps with acid reflux.
Great for watching tv and playing video games on the floor.
Here are some of the features that make this husband-style pillow outstanding.
Best Overall
The Millard pillow has a removable cover. The velour cover is machine washable, and you can maintain its cleanness at your convenience.
The pillow has two arms on the sides to rest your elbows. The arms give the pillow stability and prevent it from falling.
The pillow has a great neutral grey color which blends with most of the colors in the home.
Moving a huge pillow around can be tiring. The Milliard pillow has a convenient carry handle that is easy to grab and move from one room to another.
Materials: Memory Foam
Dimensions: 15 x 36 x 24 in
What we love
It's durable
Very light and easy to move around within the house.
Adjustable to give individualized comfort.
Alleviates back pain
It has soft fabric.
It has supportive memory foam.
It comes in three sizes to cater to everyone.
What you might not
The pillow has a smelly odor during unboxing.
Only one color option.
The filling is made of shredded memory foam. The memory foam is made of polyurethane and has a high density. Memory form is known for conforming to the body shape increases comfort and support.
This ergonomic design pillow is wedge-shaped to reduce neck and back strain.
This pillow is made in three sizes as listed below. Everyone gets their fit.
Petite Size. This is the smallest size for this brand. It's 14 inches in height and is suitable for kids and short adults.
Standard Size. Most people fall in this category. The standard size is 18 inches in height and is suitable for folks who are 5.5 feet or less. The standard size can hold folks with average body weight.
Extra large size. This is the largest size in the collection, with a height of 24 inches. This size is perfect for folks who are heavily built or have a height of 6 feet or more.
BE CAREFUL to choose the correct pillow depending on your body weight and height. If you are torn between two sizes, pick the bigger one!
The Millard shredded memory foam pillow has the right amount of softness and firmness. You can adjust the firmness by removing some shredded memory foam fillings.
Recovery from surgery takes a lot of time. You need a lot of support and care post-surgery. The therapedic oversized foam backrest pillow is one of the best backrest pillows that will give you the support you need post-surgery.
Best After Surgery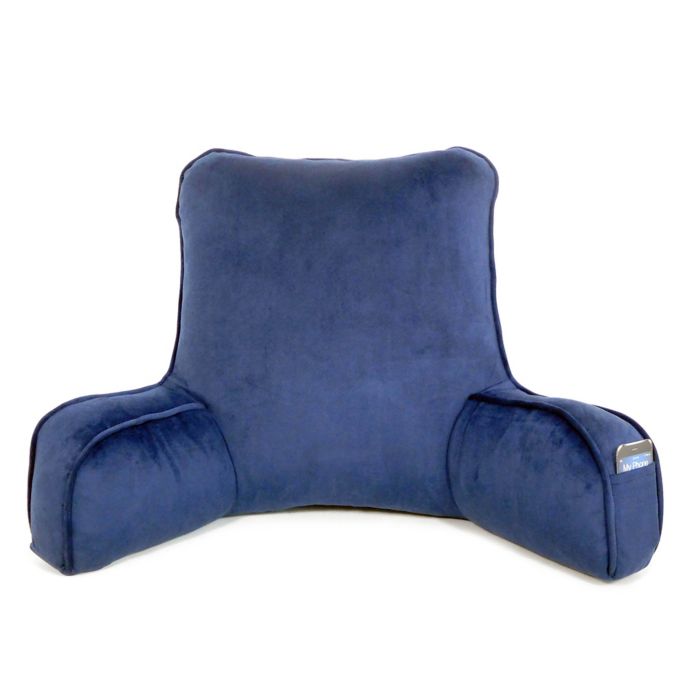 It gets so dull sleeping all the time when you're stuck in bed post-surgery. It would help if you had some entertainment to keep your mind engaged and not think about the pain. Sleeping at an inclined angle can reduce inflammation and increase blood circulation in the body.
We found you one of the best husband-style pillows; the therapedic backrest pillow. Let's look at some of the cool features.
Materials:

Cover: 100% Polyester
Fill: 90% Polyurethane Foam/10% Textile Clippings (Fill)

Dimensions: 36" L x 22" W x 16" D
What we love
Has pockets to store small items.
Has a carry handle to facilitate movement.
Alleviates neck pain
What you might not
It can only be spot cleaned.
The pillow can only be spot cleaned.
The cover is 100% polyester made with a very fancy, soft micro mink material. The filling is 90% polyurethane foam and 10% textile clippings.
The backrest pillow is designed to offer backrest and neck support enabling you to sit on your back while reading your favorite book or watching tv.
It has side pockets that can hold a remote control and a phone. This feature is convenient for relaxing in bed as you watch tv. Even if I were not from surgery, I would appreciate the side pockets. It's so annoying looking for a remote control under your bedclothes.
The pillow has a carry handle for easy transport around the house.
You don't need to struggle with back pain from sitting upright trying to read your favorite book. The Vekkia Premium Soft Reading and bed rest pillow is the best reading pillow on the market. This pillow will help you maximize your reading time.
Best for Reading
I love reading, especially before taking a nap. I just like getting lost in the story world. But, sitting upright on the bed using a regular pillow gets so uncomfortable that it draws me back to the real world. Not anymore. Let's look at what the Vekkia bed rest pillow has to offer.
Materials: Velvet
Dimensions: 15 x 11 x 18 in
What we love
It's adjustable to give individualized comfort.
The pillow gives proper arm and back support.
It has a handle for easy transport
It has five color choices.
Includes pockets for storage of small items
It's one of the bed rest pillows with a detachable head pillow.
What you might not
It's on the pricey side.
It has an odor.
It's pretty heavy; it weighs 9.81 pounds.
The unique design husband pillow is made for relaxing your shoulders and arms completely. Your reading and bed rest pillow includes a detachable bungee neck pillow, a side pocket, and an extra pocket on the back support pillow.
The pillow has a convenient handle, so you can put small things in the pockets and move around with the pillow in the house or to the balcony.
The pillow has a zippered cover that you will use to customize your comfort. The zipper allows you to remove or add foam to the pillow.
This pillow is exceptionally classy. It has a velvety soft removable cover that is machine washable. If you accidentally spill anything on the exterior fabric, you can do a spot clean using a damp cloth to quickly remove the stains.
The exterior fabric is 100% polyester, velvet to give you a soft, cozy feel. The foam filling is shredded memory foam to support your arms and back. The fill material is 20% memory foam and 80% foam.
The pillow has an ergonomic design to help you relax comfortably and give you a supportive hug. This pillow is included in the list of best backrest pillows. The foam is firm to comfort and support your back.
The pillow is designed with two arms to rest your hands to release the pressure of arm support.
The pillow has a height of 18 inches and is perfect for 5.9 feet folk.
Pregnancy puts a lot of weight on the back, especially the lower back. That is why if you are pregnant, you need back support and massages.
Bed rest is essential during pregnancy.  Getting a good rest pillow will help release the pressure in your back, and enhance your comfort. Folks, be attentive! The Cushion Lab Extra Dense Lumbar pillow is a perfect gift for any pregnant lady. Thank me later.
Best for Pregnancy
There are so many pillows out there that claim to be perfect for mums to be. Before you complete that card payment, let's look at some of the cool features that make this lumbar pillow THE BEST for moms to be.
Materials: Premium Extra Dense Memory Foam
Dimensions: 16 x 16 x 4 in
What we love
It offers support to the entire back.
It has an adjustable strap
The pillow provides super-firm support.
What you might not
Some users have found it to be too thick for their liking.
The pillow has a removable, washable cover that comes with a strap so you can secure it to your chair or attach it to your luggage as you move around.
The pillow has a cutout to hold your spine in position between two thick contoured pillows for your mid-back to rest on.
The cover is 100% POLYESTER and breathable, so don't worry about sweating.
The pillow is made from premium extra dense memory foam. The ultra-firm dense proprietary hyper foam supports your upper back, mid-back, and lower back all day long. The proprietary HYPERFOAM conforms to the spine's natural curve and relieves pressure to provide back support.
This pillow was designed by a physical therapist specifically to provide relief for back pain. It has a patented ergonomic design with an adjustable strap to provide lumbar support. You can use this lumbar pillow in an office chair, a car, a plane, a sofa, name it.
The pillow has an odd W-ESQUE shape to push against your mid-back. This shape guarantees you comprehensive overall support.
This lumbar pillow measures 16 inches in length by 14 inches in width by 4 inches in height.
Piling up many pillows to support your back in bed never really gets the job done. You will keep turning around to put the pillows back in place. Here is an excellent bed rest pillow for you. The Alwyn Home Grasmere 24" backrest pillow cover & insert is worth every dime.
Best for Back Rest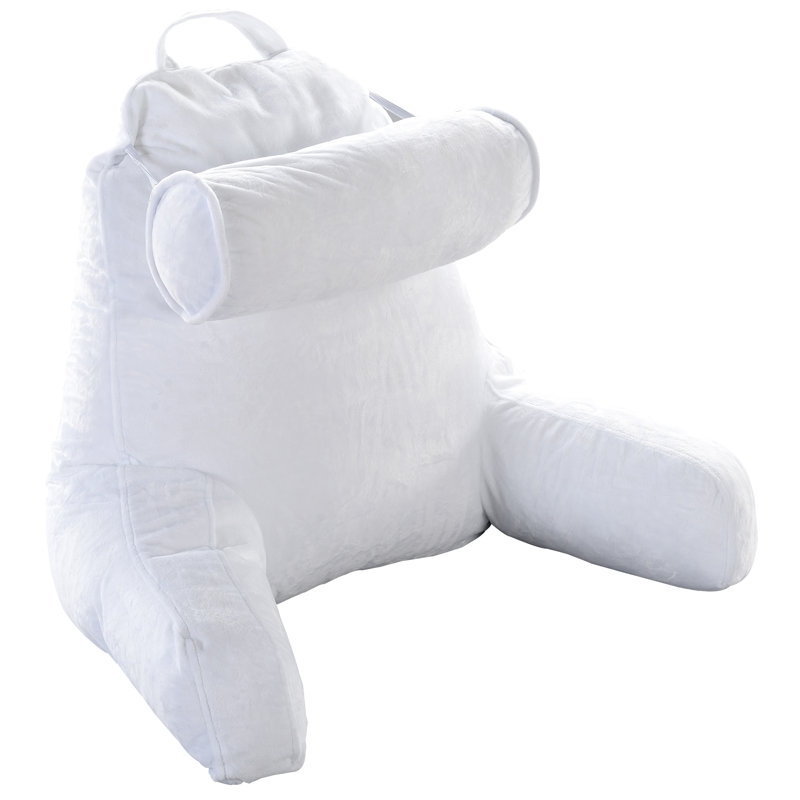 As you read this, I am pretty sure that your neck and back are not supported. You are probably leaning forward. Sitting for long stretches only results in pain and discomfort. This is why you need a backrest pillow. Find out if this pillow will suit your needs.
Materials: Memory Foam (Fill), Velour-inspired Polyester (Cover)
Dimensions: 24 x 18 x 16 in
What we love
It has a detachable cylindrical pillow
It has a carry handle for swift movement
It has a side pocket to carry things like reading glasses.
It provides firm support.
What you might not
The shape is uncomfortable to some people.
This backrest pillow has a removable cover that is machine washable. It has a 5" by 16" detachable cervical pillow to offer support and extra comfort. The pillow also has a built-in carry handle to promote easy movement.
The backrest pillow is 16 inches in length, 18 inches in width, and 24 inches in height.
This backrest pillow has a velor cover material. The fillings are made of natural fiber and shredded memory foam.
The pillow is ergonomically designed with stiff memory foam to offer solid support for your back. It has ample armrests for your hands and a cervical pillow for head and neck support.
If you sit for long hours at the office, gaming, watching tv, or traveling, this will be your best investment. Sitting down for long hours puts a lot of pressure on the back and spine, leading to chronic pain. The everlasting comfort lumbar support pillow is the solution you need.
Best for Lumbar Support
This orthopedic doctor-recommended design pillow makes it to the list of best backrest pillows. The backrest pillow is designed to provide lumbar support and relieve upper, middle, and lower back pain. Let's take a look at some of the additional features the pillow has.
Materials: Memory Foam
Dimensions: 13 x 4 x 13 in
What we love
The pillow provides excellent mid and lower-back support.
It's a versatile pillow that is easy to position.
It has a lifetime replacement policy.
It has dual adjustable straps.
Environmental friendly.
What you might not
Some folks find it too bulky.
Some find it too soft.
The lumbar support pillow has a machine washable cover that is easy to unzip and remove. This is one of the backrest pillows that has two adjustable straps to stably position it where you need it.
The everlasting comfort pillow with an infinity logo is durable and long-lasting. As if that is not enough, if anything happens to your pillow, the company sends you a brand new replacement. Can there be a better deal than this? Make that order now!
The lumbar pillow is made with pure memory foam from top memory foam manufacturers. Memory foam conforms to body shape and gives you maximum comfort. The pillow has a hypoallergenic mesh cover that is breathable and gives maximum comfort, improving your posture in the process.
The backrest pillow measures 13 inches in length, 4 inches in width by 13 inches in height.
The pillow is designed with slow rebounding memory foam to retain shape after every use and offer the support needed without flattening. The pillow is ergonomically designed to give you total support for your entire back.
Are you looking for the perfect bed rest pillow for your children? You are in the right place; check out the wait fly cartoon hamster lumbar pillow. This bed rest pillow is so pretty and cuddly for your kids.
Best for Kids
If you have kids or younger siblings who like puffy teddy bears, get this pillow for them. It's a perfect bed rest pillow that will offer your kids lumbar support while reading storybooks, playing, watching cartoons, and even resting.
Materials: Cotton
Dimensions: 9 x 17 x 9 in
What we love
It comes in three colors.
It's the perfect size for kids.
It's soft, cuddly, and gives a warm, supportive hug.
Durable.
What you might not
It can only be spot cleaned.
Too small for an adult.
The WAIT FLY pillow is made with cotton and a synthetic polyester blend. It has plush firmness, meaning it's ADORABLY soft and comfy. It's a good reading pillow for kids as they can rest their backs perfectly.
These pillows are an excellent size for children. It measures 19 inches by 17 inches by 9 inches.
How Did We Choose the Best Bed Rest Pillows
Our main goal is to ensure we guide you to choose the best bed rest pillows. That is the main reason why our review entails high-quality pillows. We are aware that different people have different preferences, and that is why we paid attention to detail in this review. Here are some of the factors that we considered most valuable:
We liked the adjustable pillows to allow you to customize the pillow to the firmness you appreciate. These pillows allow you to add or remove shredded foam to your liking.
Price is an important consideration when purchasing any product. We choose products with different price ranges, from expensive to affordable ones. There's something for everyone in terms of price.
Latest Reviews From Users
Customer feedback is crucial for any product. We looked at the latest reviews from different clients worldwide to narrow it down to the pillows we selected. We were keen to identify the positive and negative feedbacks which played a big part in our research.
When purchasing a product, it's vital to know its maintenance. We choose pillows that are easy maintenance and include machine-washable ones.
Firmness is essential to promote extra support. This was one of the primary considerations during selection.
We chose pillows made of the best quality fabric and loft in the market.
You want to pick a color that will rhyme with your interior decor. We liked pillows that had different color options.
We considered pillows that would not affect people with allergies. You will find that most of the pillows we reviewed are hypoallergenic.
Do you still have your bean bag pillow? It's time you put it away and get you and your family backrest pillows. These will ensure that your spine is well aligned and relieve excess pressure from your back, shoulder, and neck.
Remember to get a pillow that suits all your needs. Whether you are pregnant, recovering from surgery or you want your kids to enjoy reading sweet bedtime stories in bed. Most of the pillows in our review are multipurpose and require little maintenance. A guaranteed value for your money!